FedEx
FedEx Compliance: Some easy ways to avoid difficult problems
It's much too easy to go outside the FedEx required lines. But automation can keep you safe.
---
"The FedEx brand name symbolizes outstanding service, reliability and speed. Emphasis is continually placed on promoting and protecting the FedEx brand, one of our most important assets."
-Federal Express Annual Report to Shareholders
FedEx Ground ISPs operate under one of the world's most valuable corporate logos, but they are required to remain vigilant while doing so. Violations of FedEx compliance rules can result in problems that go well beyond unnecessary expense, lost time and uncomfortable conversations. Clever entrepreneurs will look for routes with histories of compliance issues because they will be allowed to bid against the owner at renewal time. Their objective is to swoop in on a valuable but distressed property for a below market price. It can and does happen.
Extreme violations including fraud or other illegal activities will send the ISP's contract directly to legal review at FedEx Ground corporate headquarters. But with so many moving parts involved, good intentions are simply not enough to keep even the most conscientious ISP free of compliance nightmares.
Four operational areas are responsible for creating most of the compliance issues that even well run ISPs still routinely encounter. Fortunately, there are new high tech solutions that can keep every operation on a safer course.
(1) Safety. Accidents will happen, and when they do an ISP must be able to prove that the causes did not include a lack of training or an overworked driver. FedEx has recently instituted new safety training guidelines for ISP teams and it continues to rely on dual lens telematics that monitor and simultaneously record both the road conditions and driver behavior.
Records of driver hours must be auditable upon demand. Punching a time clock is not acceptable so ISPs must rely on third party systems to maintain hours driven records. Scanner times aren't a good option.
Recommendations on Safety. Beans Route's safety solution relies on seamless dashboard access to best of breed monitoring and training systems. Lytx is the advanced safety telematics leader, it is integrated into the platform in order to give busy ISPs an intuitive interface that highlights emerging safety issues along with the recommended remedy before serious problems can result. In short, it lets FedEx know that you also take safety very seriously.
Safety training has now become even more stringent with the new Train The Trainer program that requires every ISP to have access to a safety trainer certified by a qualified third party vendor. In this instance Beans Route has brought in industry leader Impact Solutions to provide the easiest access to a top rated training program. Impact will even send their certified staff members to an ISP to train staff without disrupting schedules.
Beans Route's solution for recording and managing driver hours involves an automated clock-in and clock-out system that maintains the data required for an audit. It also provides advanced scheduling, so that ISPs can optimize their driver's workload on a weekly basis without approaching overworked (or underutilized) conditions for anyone.
(2) Maintenance. FedEx spends close to $500 million annually on advertising but it knows that its ubiquitous last mile vans are its public face. They can not have those vans blocking traffic because of mechanical issues, or even looking like they might be on the verge of breaking down. ISPs are required to perform and submit Monthly Maintenance Reports on every vehicle in order to keep FedEx looking good, and to be able to cover themselves if an accident or breakdown does occur.
Recommendations on Maintenance. Completing manual MMRs has proven to be a time drain for ISPs, with a monthly report required for each vehicle. Beans Route has automated the process down to the entering of a few fields such as odometer readings and the mechanic's ratings. All other fields are pre filled by the system including the signature. The resulting PDF file is ready to be sent to the terminal manager, making it much easier to meet maintenance compliance.
(3) Timesheets. The record of how and when a driver is on duty is the timesheet. Drivers are employees and local labor laws are in force. ISPs try to maintain a balance between optimizing the use of a driver's time while also keeping the driver engaged, motivated and alert - but within several layers of regulations.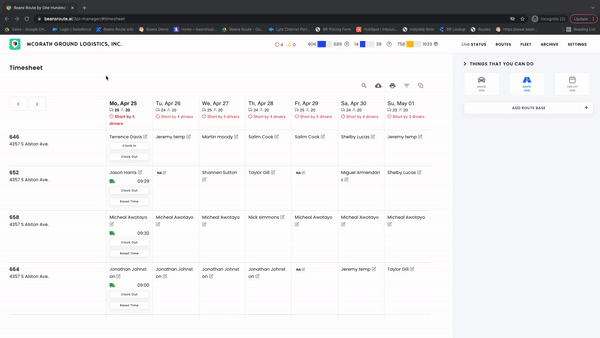 Drivers can be auto-assigned to their best routes, clock in and out is automated along with time-off requests
Recommendations on Timesheets. Beans Route clients rely on an auto scheduler that allocates the driver's schedule in advance, but the actual routes are gated and made visible to the driver only at the start of their shift. This helps to maintain order and regulates time off requests for when they are genuinely needed. The result is the proper time hygiene that ISPs require of their most valuable human resources. Labor regulations and employee status are very important to FedEx and are frequently reviewed under audit. Having a tested, proven system for documenting hours worked will provide a very favorable setting for the auditors.
---
---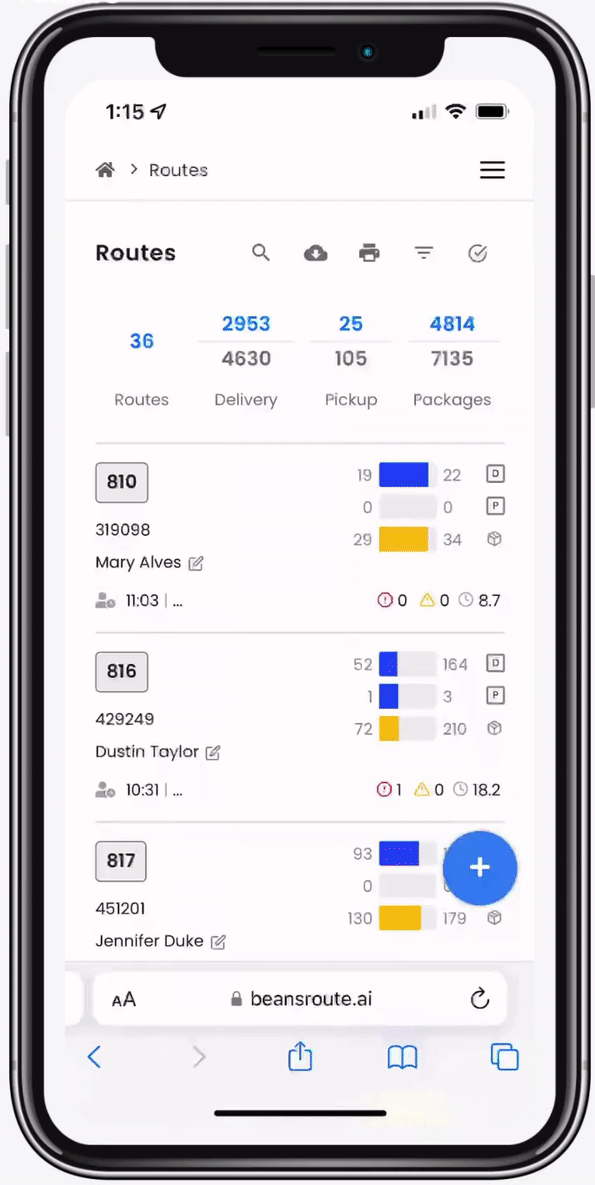 A real-time accounting of ILS events will effectively predict the ILS score, allowing time for any corrective measures.
(4) ILS Score monitoring. Safety is rule #1, but getting the right package to the right customer is what pays the bills. FedEx uses the Inbound Local Service score (ILS) as the key metric for measuring the delivery performance of ISPs and there is almost no room for errors – ISPs must maintain a score of 98.5% to remain in compliance. FedEx maintains a long list of possible delivery problem codes, but there are five that come up most frequently:
Code 2: A bad address wasn't detected until it was too late
Code 4: Package was delivered to a business outside of its operating hours
Code 16: Package was missing from the truck
Code 17: A misdelivery or a duplicate scanning
Code 27: Failure to deliver
Even an ILS over 98.5% can still cost money, because it is a component of the Customer Service Incentive (CSI) that FedEx pays out every four weeks to the highest performing ISPs.
"I run a FedEx Ground ISP myself, so I know how easy it can be to find yourself on the wrong side of compliance issues. That's one reason why we place such an emphasis on anticipating problems in advance, and our software developers are excellent at the automation that keeps us out of trouble and delivering."
-Vikram Sekhon, Business Development Director, Beans Route
Recommendations for ILS score management. Beans Route maintains an emulation of the ILS score in real time for its clients, so that it can be easily monitored and issues can be addressed before they cause a problem. The algorithm focuses on exception reporting so that the deliveries that need to be fixed are highlighted and explained.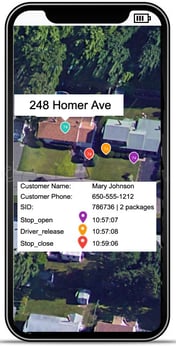 The ability to understand a dispute situation is provided by the three exact scanning locations along with the geo coding for the customer's home or apartment.
(5) Disputed Deliveries. A disappointed customer will vent their anger at FedEx, usually before the ISP even becomes aware of the problem. Social media platforms can now magnify a small problem quickly, and it can take days for the complaint to work its way back to the ISP. Well run ISPs can demonstrate their diligence by having real-time access to the delivery data, quickly reassuring the terminal manager that they understand the delivery details, can identify any possible driver error, or, more happily, confirm that they did in fact complete a disputed delivery correctly and on time.
Recommendations on Disputed Deliveries. Geocoding can quickly display the scanning locations and timing of the disputed delivery so that the ISP can either spot the problem or, hopefully, confirm that the delivery was indeed completed. Beans Route stores a service history that includes the DSW data, but it is more comprehensive and more easily accessed. The ISP can quickly see the precise scan locations and times
Beans Route is also designed to help prevent recurring problems. Customers often have a preferred delivery spot on their property that may not be obvious to a new driver. In those instances a driver can simply 'slide the pin' on their device to maintain a permanent record of the customer's preference.




Taking packages on the last mile to a rightfully demanding consumer is never going to be simple and easy. It remains a perpetual motion logistical challenge that just doesn't allow for the perfection that FedEx desires. ISPs need to predict safety and performance traps and have the training in place to minimize their negative impact. Like most everything else nowadays, data, thoughtfully presented, is the key to proper navigation towards eventual success.
---
Beans Route is a Silicon Valley geospatial data company that maps complex pickup and delivery logistics for over 30,000 Federal Express Ground drivers. Its solutions provide full integration with FedEx as well as office functions including scheduling, maintenance and recruiting. FedEx Ground ISPs wishing to optimize the value and operating costs of their P&D assets are encouraged to contact one of our consultants or to call 415.985.6957.