Logistics Management Software
The Basics of Owning FedEx Routes
Navigate the complex world of running an ISP with the advice of industry experts
---
The FedEx Ground division is FedEx's second most lucrative segment and brings in around 30% of the shipping giant's revenue. But unlike its other divisions — and even most of the other major U.S. delivery operations — FedEx Ground does not employ its own drivers. Instead, the company depends on a network of ISPs (Independent Service Providers) to complete all of its deliveries. Drivers are therefore employed by contractors, not FedEx.
This unique structure has made it possible for anyone with deep enough pockets to purchase FedEx Ground routes and operate as an ISP. The downside to this independent structure is that FedEx does not provide training or crash courses to new ISPs. Route owners are left to research how to run, operate, and manage an entire business on their own.
In an effort to ease this burden, we've outlined the basics for any one interested in owning a FedEx Ground business. If this material doesn't cover your specific questions, please feel free to contact our veteran ISPs at beansroute@support.ai.
What is an Independent Service Provider (ISP)?
An Independent Service Provider (ISP) is an entity (typically a corporation) that has entered into an agreement with FedEx to provide service in a contracted service area. In order to meet the new ISP agreement that was instituted in May 2020, ISPs must own a minimum of five routes and/or 500 daily deliveries and overlap Ground and Home Delivery routes. Prior to May 2020, FedEx Ground mostly operated under an Independent Contractor (IC) model which allowed contractors to own fewer routes and/or deliveries and did not require the merging of Ground and Home Delivery routes.
Although the new ISP agreement altered the conditions of which an entity could own FedEx Ground routes, the driving force behind the switch from the IC to ISP model stemmed from legal issues on whether or not FedEx operators should be classified as employees or independent contractors.
ISP contracts are typically two to three year agreements between FedEx and a contractor. Once a contract ends, the contractor still has exclusive rights to his/her territory and can renegotiate another agreement provided that they meet the service and safety requirements as outlined in the ISP agreement. The only way another entity can bid against a contractor for rights to their purchased territory is if the contractor is in breach of their contract.
But even though ISPs must adhere to FedEx's guidelines and standards, contractors largely operate independently from FedEx. Contractors have their own Federal Tax Identification Number, hire and pay their own drivers, and do not have to pay FedEx any royalties.
Key Terms
Independent Service Provider (ISP)
An entity with exclusive rights to a specific territory in which they can deliver packages for FedEx Ground. ISPs must own a minimum of five routes and/or 500 daily deliveries and overlap Ground and Home Delivery routes.
Pickup & Delivery (P&D)
P&D (pick-up and delivery) Routes include residential and business deliveries and returns (pick-ups). P&D drivers start their day at a terminal, deliver and pick-up packages locally, and then return to the terminal with any acquired packages at the end of their shift.
Linehaul
Linehaul drivers transport cargo with a truck or trailer from one terminal to another. These trips are typically hundreds of miles long and can be across state lines. A linehaul driver is only responsible for transporting cargo from one destination to another and does not need to interact with the general public or load/unload the truck or trailer.
Independent Service Provider Agreement (ISPA)
An Independent Service Provider Agreement (ISPA) is your contract with FedEx Ground. These contracts are typically two to three year agreements that must be renegotiated upon expiring. Agreements outline a contractor's pay rates and service terms.
Two Main Focuses for ISPs
Outside of building a dependable team of drivers and managers, most of your energy will be centered around operations and compliance. Thankfully, FedEx's billion dollar industry has led to the creation of many innovative products and services designed to meet the specific needs of an ISP. Through these technologies, which are discussed in the following section, ISPs can automate the majority of their operations and easily meet compliance regulations.
Operations
An ISPs success is closely tied to how well they learn how to best execute day-to-day operations. Smooth operations allow an ISP to complete pickup and delivery operations safely and on time, raise customer satisfaction, and reduce driver churn through a more stable work environment.
The best way to establish seamless operations is to use a business and delivery management software that integrates directly with FedEx for automatic manifest uploads and harnesses the power of artificial intelligence and machine learning to automate daily tasks, such as dispatch and routing. This type of business management software will not only save you time, but it also allows you to scale your business with ease.
As an ISP, you must be prepared to handle growth, even if you're only starting out with five routes. In 2019, FedEx Ground's package volume was 2.28 billion. Just one year later, that number jumped to 2.54 billion — a year-over-year growth of 11.4%. In fact, over the last 22 years, FedEx Ground has experienced an impressive compounded annual growth rate (CAGR) of 13%.
This continued growth makes buying FedEx routes that much more appealing to entrepreneurs, but it's essential that they are prepared to overcome the growing pains associated with scaling a fast-paced business.
Having the right tools in place, like AI-powered dispatch and routing, can significantly ease the burden of growth and reduces the amount of manpower needed to accomplish daily tasks.
Compliance
Lawsuits, audit issues, and other complications arise when contractors fail to comply with FedEx Ground's regulations, DOT guidelines, or with state and federal law. Typically, an ISP fails to comply with set regulations or standards because the owner was unaware of the compliance expectations or because they did not have procedures set in place to help them stay compliant.
As a new owner of FedEx routes, it's critical that you take the time to understand ISP compliance and then find solutions that will help you stay compliant without much effort.
Some of the biggest struggles ISPs have with compliance involve inadequate timekeeping and VEDR oversights. However, it's easy to stay compliant in these areas with the right tools and software.
1. Digital timekeeping
Even if you pay your employees a fixed daily wage instead of an hourly rate, you are still required to maintain a detailed record of hours worked. Since the use of time card punchers are prohibited inside FedEx facilities, you'll need an alternative way to track hours in order to pass FedEx audits and comply with DOT (U.S. Department of Transportation) regulations.
Some ISPs install iPads in each vehicle and require drivers to sign in before starting their route. Other ISPs take advantage of the many time tracking apps available.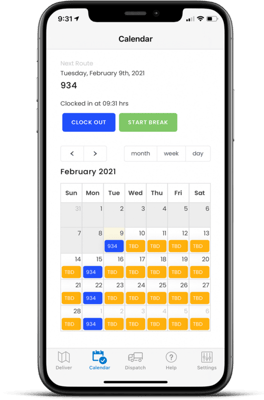 Phone applications tend to be the least expensive and simplest way to track hours as each driver uses their own phone to clock in or out when they arrive onsite, take lunch, or leave work. Make sure to invest time researching what application will be the easiest for you and your drivers to use. The main goal of the app is to help you stay compliant and keep track of your employees hours.
The best option is to use timekeeping software that can integrate with your delivery and business management solution. An integration will keep all your records in one place and prevent you from having to switch back and forth between dashboards.
Tip: Only use time tracking apps with geofencing capabilities. Geofencing allows you to set a geographic boundary that acts as an invisible perimeter for all employees using the timekeeping app. You will be notified whenever a driver clocks in or out beyond the predetermined authorized location.
2. Video Event Data Recorder
FedEx Ground requires ISPs to outfit their vehicles with Video Event Data Recorder (VEDR) technology. But simply having the technology in place isn't enough.
As an ISP owner, you or someone on your team must consistently check the VEDR reports to make sure you are meeting FedEx's safety requirements through three of its four Key Performance Indicators (KPIs).
Failure to meet at least three of the KPIs can result in a breach of your contract, which would allow another entity to bid for your territory.
The four Key Performance Indicators are:
1. Unassigned driver.
When VEDR technology registers and records unsafe driving behavior, but no driver has been assigned to the vehicle it occurred in, then this event is classified as having an unassigned driver. ISPs must keep the amount of coachable events yet to be linked to a specific driver under 15% in order to pass this KPI.
2. Overdue coaching.
Overdue coaching occurs when coachable events (unsafe driving incidents) go unaddressed for more than four days. This number must be kept at less than 10% in order to pass the KPI.
3. Overdue check-ins.
The overdue check-in KPI is the amount of recorded events that have not been checked for four or more days. This KPI needs to be less than 20%. If you use business and delivery management software that integrates with VEDR technology, then you can easily check your recorded events without needing to login to your VEDR portal.
4. Coaching effectiveness.
Coaching effectiveness represents the amount of times unsafe driving behaviors are repeated within 60 days after a driver receives coaching. So if a driver fails to make a complete stop, receives coaching, and then runs through another stop within two months, this will negatively impact your coaching effectiveness KPI, which needs to be 60% or higher. On the other hand, if the driver does not repeat this behavior within 60 days after coaching, your effectiveness rate goes up.
Keeping track of your VEDR requirements is easier said than done. Driver churn, vehicle problems, peak season, and other chaotic moments that come with running an ISP can distract you from managing VEDR compliance.
An easy way to ensure that your business remains compliant with the four KPIs is by using a delivery and business management solution that partners with a reputable VEDR vendor to provide a unified solution. With an integration in place, you won't need to switch between dashboards. Instead, unsafe driving behaviors will appear directly on your business management software.
How Beans Route can help
Beans Route is a unified business and delivery management solution that helps ISPs automate their operations and manage compliance. Integrated with FedEx and powered by artificial intelligence and machine learning, Beans Route automatically uploads, optimizes, and assigns routes to drivers.
The built-in Timekeeping and Scheduling feature creates 7-day schedules, monitors your employee's hours, lunch breaks, and other data to help you comply with labor laws and DOT requirements. The geofenced clock in/out option allows you to ensure that your drivers log honest hours and drivers are unable to view their assigned route until they clock in.
Beans Route's integrations with leading VEDR and safety training vendors allows ISPs, AOs, BCs, and managers to view compliance-related data directly on the Beans Route dashboard for a seamless and unified business management solution. The VEDR integration allows you to automatically achieve 2 of the 3 KPIs needed to meet FedEx Ground's standard.
Other features include:
Real-time driver location
Monitor your drivers' location anytime, anywhere
Easily review previous records of your drivers' movements
Learn how to better optimize future routes
Route optimization
Automatic route optimization
Pins snap to homes, not streets, for clear navigation
AI-powered software constantly improves routes based on previous data
Ability to drop pins and draw maps
Mark entrances, locker locations, parking, private roads, etc.
Pins are saved and made available to other drivers running that route
Make notes about dogs, uneven roads, particular stop specific requests or save gate codes in the app
Apartment, airport, hospital location data
Sequential waypoints take drivers to within 10ft. of a delivery's location
Locations of parking lots, entrances, unit numbers, package lockers, and other important POIs are highlighted
No contracts
Beans Route is a flexible, month-to-month service
Pay per route/seats payment model
Avoid getting locked into a contract
Stay for the quality of service, not because of a binding contract
Assign multiple drivers or helpers to a route
No additional hardware to purchase
24/7 US-based support
Receive quick answers to all of your questions
Speak directly with a US team member whenever you need help
Benefit from an easy, personal line of communication with a direct point of contact
7-day auto-scheduling
AI seamlessly creates 7-day schedules for you
Schedules generated monthly and incorporates time-off requests
AI quickly learns to perfect schedules based on past performance
Drivers view their daily, weekly, monthly schedules in real time
Clock in/clock out
Stay compliant with labor laws by tracking employees' timesheets
Drivers clock in and out directly on the Beans Route app
Device agnostic
Run and operate Beans Route on any tablet, computer, or smartphone device
App can be downloaded from both the Google Play and Apple Store
Launch Dispatch Manager on any computer with an internet connection
3-minute driver training
Onboarding new drivers takes only 3 minutes
User-friendly interface with intuitive design makes the app easy to use
Drivers with Beans Route can quickly navigate routes as well as your veteran drivers
Route progress in dispatcher
See an overview of each driver's progress through clear visual bars
Blue indicates how many deliveries and pick-ups have been made
Grey indicates the amount of stops left
View the exact number of stops completed and in progress
Real-time scanner data sync with FedEx
Package scanning
Use a mobile device to scan packages
Beans Route adds and optimizes scanned packages with a driver's current route
Easily create clean-up routes routes
Quickly add unscanned packages onto a manifest
No scanner? No problem. Use the app in place of handsheets
Conclusion
Whether you are thinking about buying FedEx routes, just signed your first ISP agreement, or have been in the industry for a while now, having the right technology can help you run and operate a more profitable business that can scale with relative ease.
See for yourself why hundreds of ISPs choose Beans Route as their business management solution by scheduling a live demo with one of our FXG experts by contacting us at sales@beansroute.ai.