Logistics Management Software
How to Transition Your Operations from Garmin to a Routing Suite
Run and manage an effective fleet with delivery and business management software.
---
Business and delivery management software offer companies a wide range of integrated solutions that work to streamline and manage most aspects of a company's operations within a single dashboard. Unlike standalone GPS devices that only provide navigation, business management software unifies multiple tools and systems that a delivery company needs in order to function at a high caliber and scale with ease. The right software can help increase productivity, allow the company to access real-time analytics and metrics, check drivers' safety training statuses, review ELD compliance alerts, adjust routes, and more.
Typically, business software is developed to meet the needs of a specific industry. Therefore, courier companies looking to switch from Garmin devices to a complete, end-to-end solution should limit their search to software that specializes in logistical management.
The best business and delivery management software helps courier services win bids for new businesses, acquire contracts, manage safety, increase profitability, and maximize efficiency. In contrast, Garmin devices and other GPS devices provide limited value and create inefficiencies for enterprises that use them.
The drawbacks of using GPS navigators to route your fleet
Delivery companies must monitor dozens — if not hundreds — of drivers at a time, stay compliant with DOT and labor laws, satisfy customer expectations, analyze relevant data and metrics to increase efficiency, adjust routes, and handle unexpected problems as they appear. With so many moving pieces to manage, inefficient solutions like Garmin or GPS devices only add more burdens to a delivery company's operations.
Four of the biggest challenges GPS navigators present a courier company include:
1. Manual route uploads
Garmin tablets and other standalone navigation devices require courier delivery services to manually upload pre-set routes every day. This process is time consuming and requires each device to connect to a computer through a USB cable in order to upload pre-set routes. The GPS navigators must then be placed back in the appropriate vehicles for drivers to receive navigation to each scheduled stop.
2. Unreliable maps
GPS navigators often lack complete mapping data for addresses outside single-family housing. When drivers make deliveries to rural areas, apartment complexes, business parks, fulfillment centers, and other complex areas, GPS can abandon them thousands of feet before they reach the correct delivery or pick-up location.
Additionally, inflexible geocodes on Garmin devices don't allow drivers to adjust pin locations in order to create accurate markers for future routes. Drivers with no way to change inaccurate or incomplete navigation can waste time searching for a stop every time it appears on their route.
3. Tablet-use only
Delivery services that use GPS navigators must purchase a device for each vehicle in their fleet. For large fleets, this cost can add up quickly. Over time, tablets may break, get damaged, or become out-of-date and need to be replaced, adding further expenses a company must pay.
Drivers are also less familiar with tablets and usually require longer training sessions when going through the onboarding process. Since courier services experience high driver churn, these extended training sessions waste company time and can create frustration among new drivers who aren't savvy on tablets.
4. Inefficient updating process
Each tablet needs regular software and map updates which must be performed manually. Before they can be updated, each GPS navigator has to be plugged into a power source, connected to a wireless network, and be scanned for potential updates. For large and small fleets alike, this process is both tedious and time consuming.
Benefits of switching to a complete business management solution
Delivery management software that adopts new technology and consistently releases practical features has the power to automate essential parts of a logistics business, streamline operations, increase workforce efficiency, drive profit, and solve common delivery problems.
While there are many delivery and business management solutions available, certain software offers more advantages than others. For example, Beans Route, an end-to-end business and delivery management solution, employs the newest technology, such as machine learning and artificial intelligence, and innovative features, like timesheets, that make it easier for courier companies to run and operate a sustainable enterprise.
Companies switching from Garmin devices or GPS navigators to a unified solution like Beans Route will benefit from:
1. Automatic route uploads
Beans Route uses an API (Application Programming Interface) to automatically upload routes each morning. This automation streamlines operations and saves companies time. Drivers, managers, or other company employees no longer need to manually upload pre-set routes to devices. Instead, drivers can access their routes directly on their smartphones through the Beans Route app.
2. AI-powered route planning and dispatch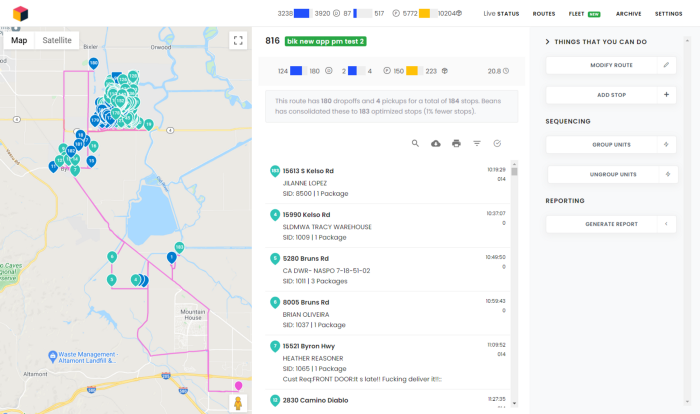 The AI-powered route planning and dispatch feature quickly learns how to optimize dispatch and routing and seamlessly coordinates the movements of goods, services, and people. Beans Route's AI system helps businesses run effectively by providing intelligent, autonomous dispatch and routing that continues to improve with each use.
3. Smartphone application
Unlike Garmin devices or other delivery management solutions, Beans Route isn't limited to tablet use. The Beans Route application can be downloaded on any IOS or Android device. Companies that use Beans Route eliminate the hassle of needing to manage multiple devices in order to route their fleet. As long as a driver enables automatic software updates, the application always stays up-to-date without any effort from the driver or delivery service.
4. Notes and customization
Beans Route makes it easy to deliver to every kind of structure with its in-app edit feature that allows drivers to add pins to mark specific locations, draw private roads, move existing pins, and add notes. Being able to add and edit data gives drivers complete control over their routes and equips them with the tools necessary to be most effective with their time. The edit feature is easy to use and is extremely useful for routes that include stops found at docks, warehouses, shipyards, malls, airports, and rural areas.
5. Industry-leading geolocations
With over 8 million apartment units and complex locations mapped, Beans Route geocodes and hosts the largest database of precise multi-tenant locations in the United States. No other company in the US has this data, including the Federal Government.
This 911-grade location data navigates drivers to within 10ft. of a delivery — even at apartments, hospitals, and other complex destinations. Drivers who use Beans Route can complete up to 20% more stops per hour on apartment-heavy routes. Beans Route also maps areas upon request if a courier service owns routes that make stops to locations outside of its existing database.
6. Timesheets and scheduling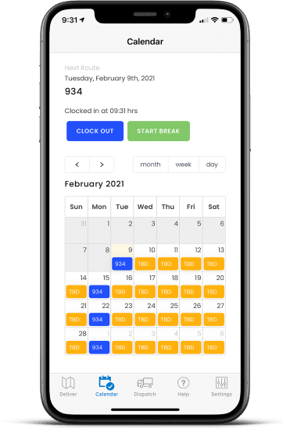 Beans Route is the only business management and routing software that currently offers comprehensive timesheets and scheduling built-in to its dashboard.
The timesheets feature helps courier services comply with labor laws and stay within one dashboard to view drivers' schedules and time off requests.
The scheduling feature makes it easy for delivery companies to meet DOT requirements and quickly become alerted whenever a compliance issue arises.
7. Stay within one web dashboard
Beans Route makes it easy to stay within one dashboard by offering a complete ecosystem for transportation and logistics management. Strategic partnerships with leading companies allow all relevant data to appear directly on the Beans Route dashboard, including a driver's safety training and VEDR status. Route progress and stop information is also displayed on the web dashboard so managers and dispatchers no longer need to check other sites, like DSW (Daily Service Worksheet).
Using one dashboard to manage and run a fleet creates greater overall visibility of a company's operations and organizes all relevant metrics and data in one, easily accessible place.
How to transition to Beans Route
GPS navigators may have been an efficient way to route a fleet ten years ago. But thanks to the rapid development of technology, delivery companies can now adopt a unified solution like Beans Route to automate essential parts of their business, streamline operations, and use a single dashboard to manage their company.
It's easy to switch from a Garmin or GPS device to Beans Route since the business management software runs and operates on any device through high-quality mobile apps or its comprehensive web dashboard. Additionally, training drivers to use the intuitive app takes less than three minutes.
Schedule a demo at sales@beansroute.ai to witness the power of business and delivery management software firsthand. You can also learn more by visiting www.beansroute.ai.