Beans Route - Prologics
How Prologics used Beans Route to Increase Profitability.
Prologics is a FedEx Ground contractor that has been in business for over four years. Based out of Central Valley, CA, Prologics spreads across four different terminals and operates over 75 routes a day. Beans Route is a Pickup & Delivery Platform for ISPs and DSPs Focused on Reducing time and mileage by more than 20% when compared to major competitors, seamless FedEx integration, Beans route optimization & navigation, apartment mapping, and realtime analytics.
---

Prologics is a FedEx Ground contractor that has been in business for over four years. Based out of Central Valley, CA, Prologics spreads across four different terminals and operates over 75 routes a day.
"A FedEx contract can be overwhelming. An entity needs to manage safety training, VEDR, personnel, vehicles, compliance, and so on, and must adhere to constant policy changes from FedEx, the state, DOT, and labor laws. Because our ecosystem has so many aspects and undergoes continuous change, Beans Route has become essential to our success. Beans Route not only saves us time by allowing us to manage our entire business on a single dashboard, but it also enables us to scale with ease."
The challenge
In order to run a FedEx contract, an ISP must navigate through compliance issues, operational problems, and HR obstacles on a daily basis. To complicate matters further, most contractors rely on multiple platforms to manage these aspects of their business instead of a single, unified solution. Separate programs allow more room for errors and oversights and fail to present contractors with a complete overview of their operations, compliance, and personnel. Additionally, disjointed management systems make it difficult for ISPs to scale and create a repeatable structure across multiple entities.
Another significant challenge that ISPs face is high driver churn. Historically, the transportation industry has always experienced high turnover, but the rise of food delivery and ride sharing services, such as DoorDash, Uber Eats, Lyft, etc., amplified this problem. FedEx Ground contractors are struggling to compete against the flexible work schedules and customizable shifts that these new, on-demand services offer drivers.
The diminishing labor pool not only makes it difficult for companies to find eligible drivers to hire, but the strenuous nature of the job leads many drivers to quit within the first few months of employment. Contractors are then left in a constant hiring and training cycle, which is both time consuming and pricey as all new drivers must pass multiple training and compliance requirements, FedEx's First Advantage screening, a drug test, and a DOT physical exam before completing a single route.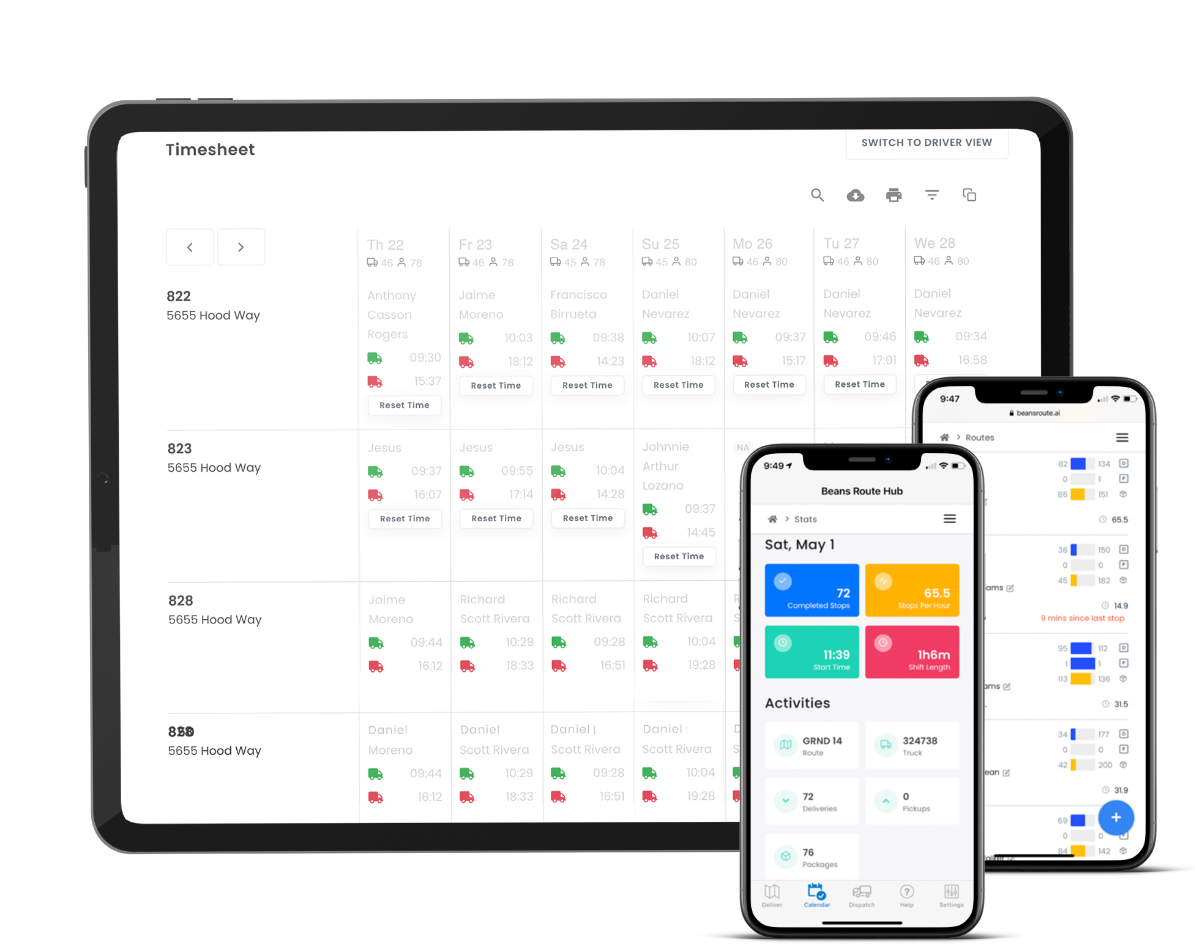 The Solution
Prologics discovered Beans Route, a unified business management system, through one of its employees. Despite being a new addition to the team, this driver completed routes thirty minutes faster than Prologic's seasoned drivers. He credited his efficiency to an app, Beans Maps for Apartments, that provides clear directions to the front door of secondary addresses, like apartment units and condominiums.
A quick call to the company led to Prologics learning about Beans Route, the company's separate tool for FedEx contractors. Beyond containing the same high-level apartment data, Beans Route functions as a complete, end-to-end solution that helps contractors solve their efficiency, compliance, and profitability problems all at once. The unified solution boasts powerful routing, dispatch, timesheets, and VEDR and safety training integrations that allow a contractor to stay within a single dashboard to manage their entire business.
The Beans Route app works across devices so drivers can use their own smartphones. The intuitive interface uses waypoints to direct a driver to within 10ft. of a delivery's front door and complete routes up to 20% faster.
The Result
After a year of using Beans Route, Prologics has experienced an average of 15% less driver churn every month. Drivers get home to their families half an hour earlier and new hires complete routes almost as quickly as veteran drivers.
Beans Route's unified solution made it easier for Prologics to pass its next FedEx audit as all of the company's safety, compliance, and personnel information is stored on one system. The unified solution also saves the company time by not having to switch between multiple portals throughout the day. Prologics now spends more time on operations, coaching drivers, and training employees to become quality managers. Ultimately, this unified system allows Prologics to better sustain its FedEx contract and repeat its success across multiple entities for future growth.